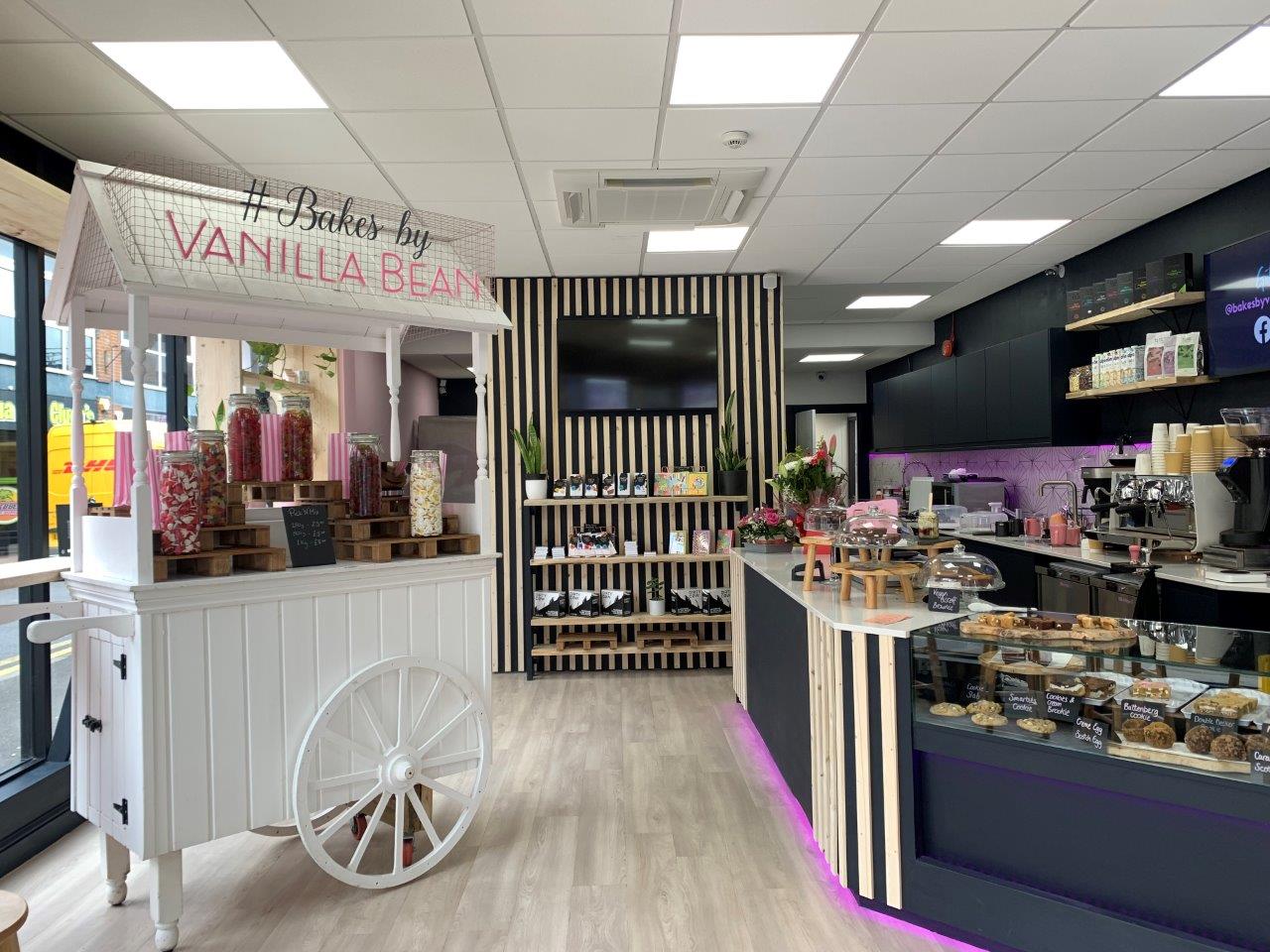 28 Wood Street is a prominently located retail property in Wakefield town centre. It is a 5 minute walk from Wakefield College and is situated amongst other hospitality venues on Wood Street.
Another exciting food business joins the ever increasing food and drink offering now situated in the Wood Street area of the city centre. Bakes by Vanilla Bean, offers a wide range of baked goods and treats for any cake lover to indulge in.
Bakes by Vanilla Bean was a small home based business which was established in June 2020. It has now outgrown its home and moved into the heart of Wakefield.
As well as small baked goods, Bakes by Vanilla Bean makes showstopper cakes for all celebrations. The perfect place to go if you were wanting to impress a loved one on that special occasion.
What was once a former beauty boutique, has now been transformed into a modern shop fit with neon lighting, a fun colour scheme and a pick 'n' mix sweet cart, bringing a sense of light hearted pleasure to your purchasing experience. They have utilised the area extremely well turning the former boutique into a colourful contemporary space.
Vickers Carnley was the letting agent acting on behalf of the landlord. Lee Carnley, managing director commented "This is a great addition to the ever expanding food offering that Wakefield now provides."
Lianna, owner of Vanilla Bean quoted: "Bakes by Vanilla Bean is a small bakery business I set up in the first lockdown in 2020. I've always had a passion for baking, and I was in the kitchen with my nana every weekend since I can remember, she's the lady who inspired me and taught me everything I know!
I've always had the dream of wanting to run my very own cake shop but never knew where to start. When we went into the first lockdown, I started baking to pass the time and quickly realised I could actually set up my own business and work from home, so I did.
I started selling via social media (Facebook and Instagram) shortly after built a website www.bakesbyvanillabean.co.uk. In September 2020 I started to approach other businesses to start supplying wholesale too. Christmas just gone I entered the world of Christmas markets, another side of the business I'd like to continue.
Running and trying to grow small bakery business from home is always a challenge as there's no high street shop for customers to just pop in to and it limits how you can sell product so although I have my dream job, I still really wanted my shop.
In November 2021 my husband Ashley left his Job so we could fulfil my dream of finding a premises where we could work together and grow a family business, shortly after this is when 28 Wood Street fell in to our hands.
To compliment our delicious baking we have partnered up with a Yorkshire roastery Rountons, their coffee is in our opinion the best around, compliments our baking perfectly and we will be the first to bring this to the area!
We have looked forward to opening the doors and welcoming you all in!"
Formidible commercial property team offering unrivalled expertise across Wakefield and five towns area
We have an in-depth market knowledge second to none ensuring every client and property receive a tailor-made service handled with strong individual advice, strategic thinking and 'good old fashioned' client care.

Vickers Carnley Ltd is a member of Money Shield CMP, Scheme Ref:58523933, which is a client money protection scheme, and also a member of Property Ombudsman Scheme Ref: T04734, which is a redress scheme. Formidible commercial property team offering unrivalled expertise across Wakefield and five towns area
Find out more